Happiness Edge is our speaking and workshop arm.
We undertake speaking assignments for various groups, as schools, colleges, communities, and companies.
Our workshops provide a design for growing employee engagement, raising workplace happiness, and increasing intrinsic motivation.
Losses Due To Unhappiness At Work
These have been found after several scientific studies:
Businesses can lose up to 50% of their profit to stress and unhappiness. – Employee Stress – The True Cost
One-fourth (26%) of employees view their jobs as the number one stressor in their lives. – Northwestern National Life
Three-fourths of employees believe the worker has more on-the-job stress than a generation ago. – Princeton Survey Research Associates
Problems at work are more strongly associated with health complaints than with any other life stressors – more than even financial/family problems. – St. Paul Fire and Marine Insurance Co.
50% ofAll U.S. Employees are Not Happy: Nearly one in three workers is seriously considering leaving his/her organization at the present time. This constitutes a 50% increase from 2005. – Mercer Study, New York: One in two US employees looking to leave. Gallup, in its 2013 Global Workplace study spanning 142 countries, found that only 13% of the workforce are engaged and happy in their jobs, representing a cost of $500 billion annually – in the US alone.
Lost Opportunity of Innovation: The lost opportunity does not only concern lost work time due to sick days, demotivation, or fluctuation rates. The real loss occurs when we realize that motivation can increase innovation capacity by about 50% within an organization. – Gallup Study, Engagement Index Germany 2012
Health care expenditures are nearly 50% greater for workers who report high levels of stress. Journal of Occupational and Environmental Medicine
91% of managers say that their roles don't allow them to be at their best80% of all employees say their jobs don't fully engage them
Gallup's latest report says that the percentage of U.S. employees engaged in their jobs averaged 31.5% in May 2015. This reading is on par with 31.7% recorded in January, March and April, but is the lowest monthly average for 2015.
Why Happiness Before Success?
The traditional model of success is just wrong. While we are used to thinking that once we were successful—at work, at home, at life—then we would be happy; but, in fact, the opposite is true. Happiness comes before success!
Happy people are more successful. Happy people are more likely to ace job interviews, and secure better jobs. They are evaluated more positively by superiors on a job, show higher performance and productivity, and handle managerial position jobs better. In a job, a happy person is more likely to succeed better. They are also less likely to show disruptive behavior and work burnout. Furthermore, service divisions with happy leaders are more likely to garner high customer ratings.
Benefits of Happiness Workshop
Happiness increases the intrinsic motivation of employees.
A happy environment leads to the strengthening of the culture of innovation.
Motivation can increase innovation capacity by about 50% within an organization.
Happiness at the workplace nurtures a sense of ownership, and employees feel that they are an integral part of the organization.
Optimistic employees are 31% more productive, take less sick time off, achieve higher sales.
Happier people nurture higher self-esteem and communicate more effectively.
Happiness Benefits At Work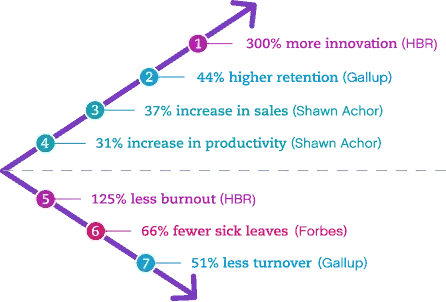 ---
Further Reading
Download Our Workshop Proposal (Right-click and Save link as..)
---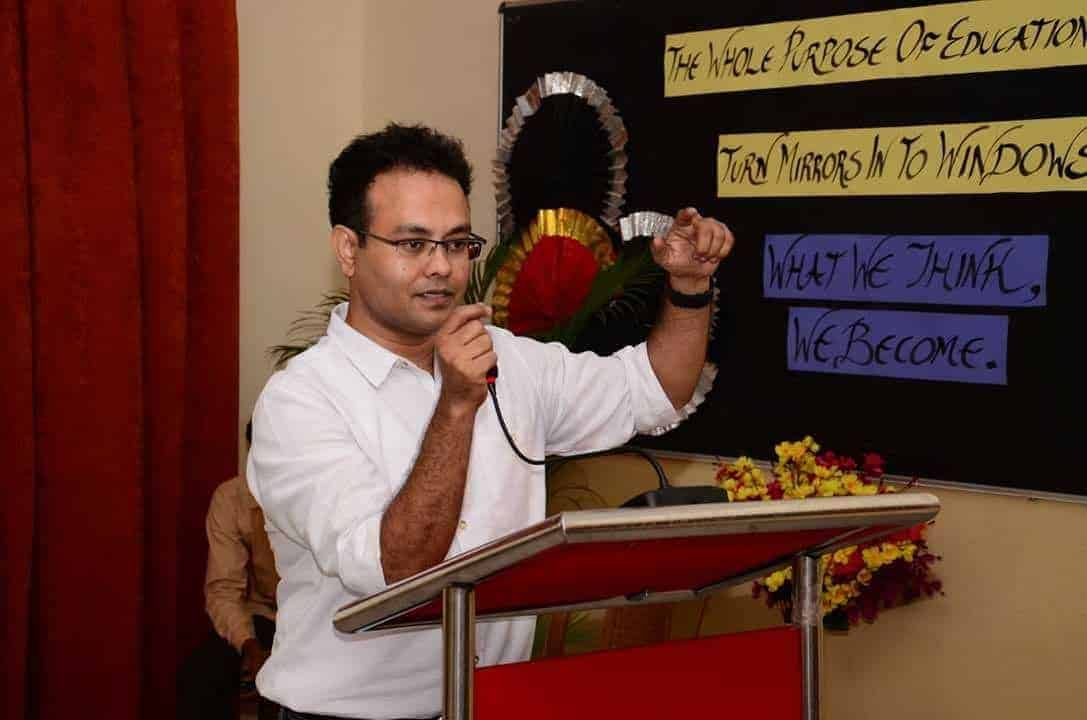 • • •
• Our story: Happiness India