Memento mori bracelets serve as a reminder of our own mortality, encouraging us to live life to the fullest and cherish every moment.
Learn the philosophy of Memento Mori: Life Lessons From The Greatest Stoic Story.
Symbolic pieces of jewelry that say "memento mori" or have a skull engraved have been worn throughout history. They represent the transcience of life.
In today's world, memento mori bracelets offer both a timeless elegance and a powerful message.
Go through this list of memento mori bracelets, discovering the one that beautifully captures the essence of life's fleeting nature.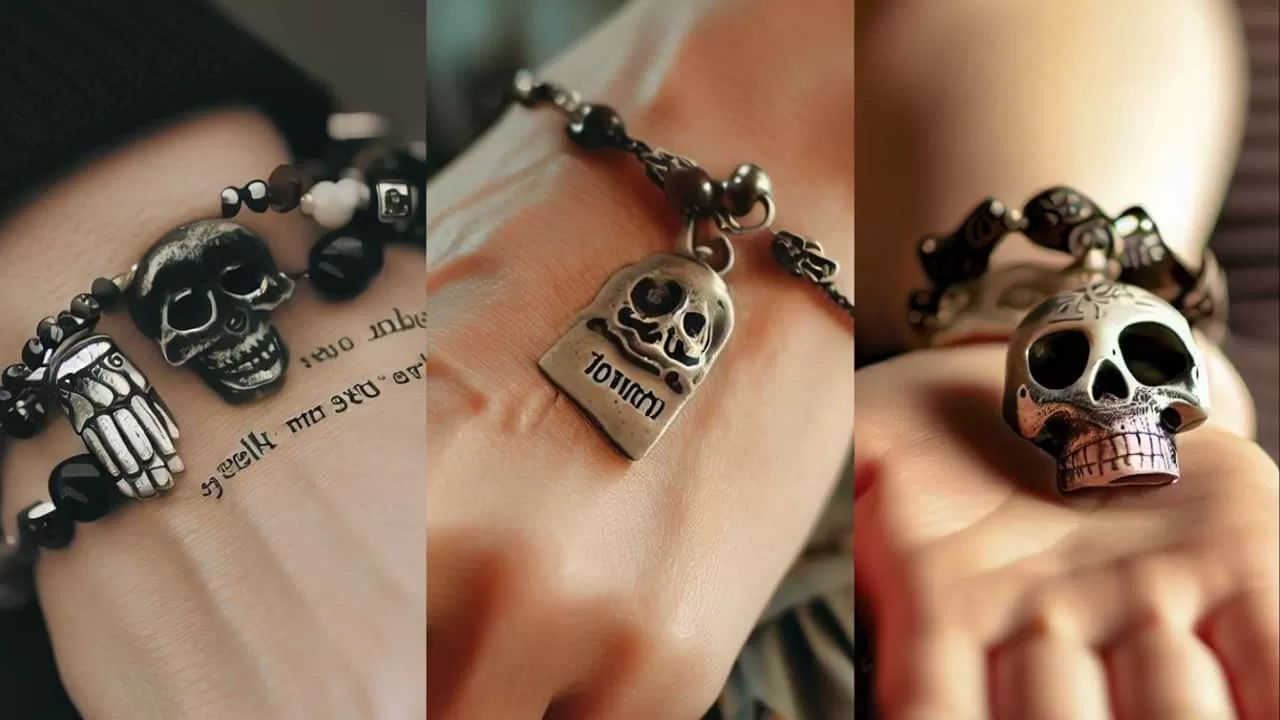 Memento Mori Bracelets: Wearable Symbols of Life's Fragility
Wearing a memento mori symbol on your wrist will invite you to reflect on your actions and appreciate the present moment.
We have carefully curated a short list of the five memento mori bracelets for you. Each piece brilliantly captures the essence of life's fleeting nature.
Our selection features a variety of styles and designs that will suit diverse personal styles while conveying the powerful message that "memento mori" represents.
Discover the piece that would suit you the best in reminding you of the shortness and improbability of life, encouraging you to live life to the fullest.
This Needzo Memento Mori Bracelet is a captivating accessory for those seeking a reminder of life's impermanence while staying connected to their faith.
Pros
Stylish and versatile design
Sturdy materials
Cons
Zinc alloy pendant might tarnish over time
Limited color choice
The Needzo Memento Mori Bracelet is a powerful reminder of life's impermanence. The black cord and zinc alloy skull head pendant combine to create a stylish and striking, yet simple, design that we find both fashionable and symbolic.
The bracelet's adjustable length of 7.5 inches allows for versatility as it can be worn on the wrist or ankle. However, we did notice that it may not comfortably fit very large wrist sizes, so it's something to consider when purchasing.
While the zinc alloy pendant is eye-catching, you may find it worthwhile to coat it with colorless nail enamel to prevent it from tarnishing over time.
The Needzo Memento Mori Bracelet comes with a Prayer Card, adding value by offering daily guidance on Stoic teachings.
It makes the bracelet an ideal gift for someone looking to stay grounded in their spiritual practice and prayer.
The beautiful bracelet and the meaningful message make this a worthy accessory for both personal use and as a thoughtful and unique gift option for a modern Stoic.
These Malayan Memento Mori Wristbands serve as a daily reminder to live life fully and without regrets.
Pros
Medical-grade silicone material
Durable with no fading
Unisex design
Cons
Limited color options (black and white)
Standard size, may feel tight on large wrists
Minimalistic design may not be for everyone
The Malayan Memento Mori Wristband is both durable and comfortable. The medical-grade silicone material feels gentle on the skin while still providing a secure fit.
Wearing it during various activities, such as showering and exercising, does not make them come off. They are comfortable and without irritation to the skin.
While we appreciate the simplicity and meaningful message of these wristbands, the design may not appeal to everyone.
The Latin phrase "Memento Mori" is embossed on the bracelets, encapsulating the ancient practice of reflecting on mortality. However, some may prefer a more stylish or intricate accessory to this inexpensive bracelet.
That said, if you're interested in a functional, no-frills item with a powerful message, these wristbands are a great choice.
In terms of fit, the standard 8″ (202mm) circumference may not comfortably fit all wrists. If you have smaller or larger wrists, you may find the fit to be either too snug or too loose. However, for the majority of users, the one-size-fits-most design should suffice.
This bracelet set is a thoughtful reminder of our mortality, ideal for those embracing the stoic philosophy of memento mori.
Pros
Adjustable bracelet size
High-quality metal skull charm
Cons
Imported bracelet
May not fit larger wrists
As soon as you wear the Westmon Works Memento Mori Bracelet, you will immediately feel its powerful impact on your philosophy and your life – remembering your mortality.
The adjustable bracelet allows a comfortable fit on your wrists.
One considerable advantage of this memento mori bracelet is the addition of a double-sided wallet-sized card, featuring captivating images on the front and an inspiring quote from Marcus Aurelius on the back.
Putting it up in a place (like above your bathroom mirror) may help you reflect on your day, and think throughout the day for reflection and motivation.
However, we noticed that the bracelet might not fit comfortably on larger wrists due to its size adjustments. If you have a bigger wrist size, it's worth considering whether the bracelet will fit comfortably before purchasing.
Overall, the Westmon Works Memento Mori Bracelet Set serves as a powerful representation of a stoic lifestyle, acting as a daily reminder of what really matters in life. We recommend this beautiful set to anyone seeking to embrace the concept of memento mori or simply those looking for an impactful and constant reminder of life's fleeting nature.
This Bestyle memento mori bracelet is a great addition to anyone's wardrobe for its comfortable fit, unique design, and durability.
Pros
High-quality leather material
Punk skull design for a bold look
Sturdy clasp for secure wear
Cons
May need adjustment for smaller wrists
Only available in one color
Limited in style variety
We were impressed with the quality of this Bestyle genuine leather braided bracelet. Made of soft braided leather, it felt comfortable on our wrists and never went out of style. The punk skull design added a touch of gothic charm and made a bold statement.
In terms of durability, this bracelet featured a sturdy latch clasp that made it easy to put on and take off without falling. Moreover, the well-secured clasp ensured that the bracelet stayed in place throughout the day.
One downside we noticed was that some may need to remove a buckle for a shorter band. Luckily, this can be easily achieved due to the magnet clasp, which conveniently allows for easy adjustments. However, if you prefer a variety of colors or styles, this bracelet might not be the best choice as it is only available in one color with limited style variety.
This VNOX Norse Viking bracelet is worth considering for its unique design and symbolism, but may not suit those with larger wrists.
Pros
Beautiful twisted line cuff with Valknut symbol and 24 Viking runes
Durable stainless steel construction
Serves as a protective amulet for the wearer
Cons
May be difficult to adjust for a perfect fit
Limited options in size and color
Could be perceived as too heavy or bulky by some wearers
Ever since we got our hands on this Norse Viking bracelet, we have been enamored with its captivating design. The cuff is adorned with the Valknut symbol, a powerful amulet in Norse mythology, and 24 Viking runes that serve as magical symbols to guide us when we feel lost.
The Valknut symbol is linked to Odin, the god of war and death.
The Valknut is also referred to as Odin's knot and was used as a symbol of the slain warrior.
The use of the Valknut symbol in Norse mythology is similar to the use of memento mori in Christian art and architecture, which serves as a reminder of the inevitability of death and the importance of living a good life.
As soon as we slipped the bracelet on, we could feel the weight of the high-quality stainless steel on our wrists.
It's stronger and more durable than other materials, and the rigidity of the metal can make it hard to compress or spread the cuff to adjust its size. Measure your wrist accurately before purchasing this piece.
If you keep the bracelet constantly on your arm, it may move up when you shower or sleep, resulting in bruises.
However, we believe its unique Nordic design and mystical properties make it an attractive choice, particularly for those interested in Norse mythology.
This bracelet makes for a thoughtful gift and is an intriguing piece that blends style, symbolism, and durability.
Buying Guide To Memento Mori Bracelet
When looking for the perfect memento mori bracelet, there are several features to consider.
One might choose a memento mori bracelet for its striking design, thought-provoking symbolism, or as a conversation starter. These bracelets come in a range of materials, including precious metals, gemstones, and even glass beads. Each bracelet showcases different symbols, such as skulls, flowers, and inscriptions, to represent the transience of life.
When selecting a memento mori bracelet, consider the quality of the materials, the craftsmanship of the piece, and the comfort and wearability of the bracelet. Choosing one that suits your personal style and resonates with you on a deeper level will make for a more meaningful and enjoyable experience.
Design
First things first, examine the design and materials of the bracelet. Memento mori bracelets come in various styles, ranging from subtle to bold. Select the one that resonates with you and aligns with your personal taste.
Durability
A good memento mori bracelet should endure daily wear and tear. Opt for a robust and well-crafted piece made from high-quality materials like gold, silver, or stainless steel. This will ensure the longevity of your investment.
| Material | Durability |
| --- | --- |
| Gold | High |
| Silver | Moderate |
| Stainless Steel | High |
Comfort
When it comes to bracelets, comfort is key. Make sure the memento mori bracelet fits properly and does not cause any discomfort while wearing it for extended periods. Adjustable bracelets can be a great option for optimal fit.
Symbolism
Memento mori bracelets often come adorned with symbols like skulls, hourglasses, or other elements related to the inevitability of death. Ensure the symbols on the bracelet are meaningful to you and serve as constant reminders to focus on what truly matters in life.
Price
Of course, price plays a significant role in any purchasing decision. Establish a reasonable budget and consider the factors mentioned above to determine the best value for your money.
Remember, when looking for a memento mori bracelet that suits you best, prioritize design, durability, comfort, symbolism, and price. Follow these guidelines, and you will find an ideal piece that serves its purpose and complements your style.
Caring For Your Memento Mori Bracelet
Caring for your memento mori bracelet depends on the materials used. For metal pieces, we recommend using a gentle jewelry cleaner and a soft cloth. Wood and bone components should be kept away from moisture and direct sunlight to prevent damage. For gemstones, cleaning with mild soap, water, and a soft brush is ideal. Regular maintenance will help preserve your bracelet's integrity and appearance.
FAQs
What materials are commonly used for memento mori bracelets?

Memento mori bracelets are crafted using various materials. Metals such as gold, silver, and brass are popular options. Gemstones, skulls made of bone, and carved wooden beads are also frequently used. We see a mix of these materials, offering a unique look and feel to each bracelet.

What is the history behind memento mori jewelry?

Memento mori jewelry dates back to the Middle Ages, when it was used as a reminder of the inevitability of death. Throughout history, we've seen these pieces worn by royalty, clergy, and everyday people alike. Various styles and materials have been utilized to create a range of designs, reflecting societal changes over the centuries.

Is there any symbolism associated with these bracelets?

The primary symbolism of memento mori bracelets lies in their imagery reminding us of our own mortality. Each element, from skulls to timekeeping devices, serves as a reminder to cherish life's moments and make the most of the time we have. Wearing a memento mori bracelet is a personal, introspective practice.

How are the designs of memento mori bracelets unique?

The designs of these bracelets stand out due to the incorporation of symbols representing death and mortality. We often notice skulls, hourglasses, and skeletons featured prominently among more traditional jewelry elements. These unusual features provide a distinctive twist on a typical accessory.
Final Words
Some memento mori bracelets can be customized. Many artisans allow for personal touches, such as engraving, choice of materials, or incorporating specific symbols.
Enquire about it, and the craftsman could make each piece even more meaningful to you, the wearer.
• • •
Author Bio: Researched and reviewed by Dr. Sandip Roy. His expertise is in mental well-being, positive psychology, narcissism, and Stoic philosophy.
---
√ If you liked it, please spread the word.